Good health starts with good nutrition. With today's farming methods depleting the natural mineral content of our lands, we can no longer rely on our foods to completely provide us with the essential vitamins and minerals that our bodies need. More people are turning to nutritional supplements as a means of getting sufficient quantities of those vital nutrients that can make a difference to their quality of health.Our nutritional supplement products are made from the finest ingredients, grown or collected from the best sources and produced with the most advanced technology. Each product retains its original nutritional value, encouraging both good health and peace of mind.
VITOLIZE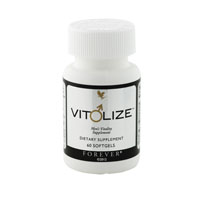 Although the exact age may vary, prostate health eventually becomes an important issue for all men. Vit♂lize™ Men's Vitality Supplement contains all of the power of Forever Pr♂6®, but now also includes more nutrients, more bioavailable nutrient forms and more powerful botanicals.Vit♂lize™, combined with a healthy diet and exercise, offers a natural solution to support prostate health. This unique, comprehensive formulation supplies a highly effective blend of potent herbs, vitamins, minerals, and antioxidants to help maintain normal urinary flow, promote healthy testicular function, and encourage optimal prostate health.
Proprietary Botanical Blend Vit♂lize™ is formulated with a proprietary blend of botanicals including saw palmetto, pygeum and pumpkin seed. Each of these botanicals has been used for centuries to support prostate health.
Exclusive Nutrient Blend
Vit♂lize™ also includes a blend of nutrients specifically designed and balanced to support men's health and promote healthy prostate function. Vitamins C, D, E, and B6 are all essential for a healthy prostate. These vitamins have been combined with the minerals selenium and zinc, which have been found to play a critical role in prostate health. Quercetin and lycopene have also been added in levels that are properly balanced with these critical nutrients to provide complete prostate support.
New & Improved
In addition to vitamin E, selenium and lycopene from the original Forever Pr♂6®, Vitamin C, D and B6 have been added in combination with zinc and quercetin. Vitamins C, D, and B6 are all essential for prostate health and are required for the production of hormones.
Proprietary botanical blend including saw palmetto, pygeum and pumpkin seed
Proper nutrient balance for complete prostate support
Provides polyphenols equivalent to eating an entire pomegranate fruit
MULTI MACA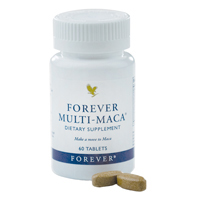 Maca, also known as Lepidium Meyenii, is an annual plant that is cultivated in the Peruvian central highlands. The edible root, which resembles a radish, is a staple food for the local population.
Maca has been highly revered for over 2,000 years in Peru. According to legend, the Incan warriors ate Maca for strength and endurance before going to battle. The Spanish Conquistadors called it the "sex herb of the Incas." Today it is known as "Peruvian Ginseng". Modern studies suggest that Maca may promote libido, sexual potency and energy.
Women in South America have also used Maca for thousands of years to help maintain their stamina and handle stress. Peruvian women begin using Maca at age 3, and remain strong, fertile and productive, well into their later life. Maca may increase a woman's libido, and should be taken daily for best results.
Forever Multi-Maca® combines legendary Peruvian Maca with other powerful herbs and select ingredients, to create one of the finest supplements of its kind!
Known as the sex herb of the Incas
Helps promote libido, stamina and energy
NATURE MINERALS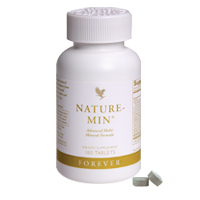 Your body can benefit from nutrients locked deep in an ancient seabed, because four percent of our body weight is comprised of these minerals. Since our bodies can't manufacture minerals, we have to obtain them from our food or supplementation.Forever Nature-Min® is an advanced, multi-mineral formula using new bio-available forms of minerals for maximum absorption. It provides minerals and trace minerals in a perfectly balanced ratio for maximum efficiency. Using a mineral base of natural seabed deposits, Nature-Min provides most of the key minerals found in the human body.
Minerals in the body perform three functions:
1. Some, like calcium, phosphorus and magnesium, are constituents of the bones and teeth.
2. Others are soluble salts that help to control the composition of body fluids and cells.
3. Minerals, such as iron and hemoglobin, perform other vital tasks. They work with enzymes and proteins, which are necessary for releasing and utilizing energy.
Forever Nature-Min® is an excellent way to ensure that your body is getting the minerals and trace minerals it needs to meet the demands of a healthy, balanced lifestyle.
Contains trace minerals from natural sea bed deposit
Perfect blend of minerals in each tablet
Minerals play many roles in the human body, from regulating fluid balance to activating genes and hormones
LYCIUM PLUS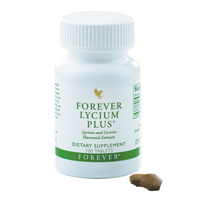 A fruit used in ancient China for centuries, lycium has been shown to enhance the complexion and help maintain energy and good vision. Forever Lycium Plus® is a dietary supplement containing antioxidants, bioflavonoids and other beneficial phytonutrients.Lycium is known in China as a "yin tonic", with many traditional uses for maintaining good health. Licorice is considered to be the most widely used herb in China. It is made up of over 150 different compounds, which have been shown to have many beneficial effects. Its most frequent use by far is as a complementary herb, with its main function being to bring out the best beneficial effects of other herbs. This makes it an ideal companion for lycium.
Licorice Flavonoid Extract is a concentrated form of licorice bioflavonoids. It is produced according to a process that removes most of the glycyrrhizin, an intensely sweet component of licorice that has been shown to produce undesirable side effects. Based on modern studies, licorice bioflavonoids are among the strongest antioxidants discovered to date.
Powerful antioxidant
Good source of phytonutrients
Beneficial to eyesight and skin
Powerful tonic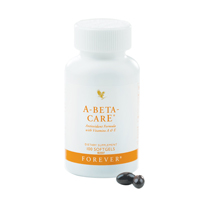 Forever A-Beta-CarE® is an essential formula combining vitamins A (from beta-carotene) and E, plus the antioxidant mineral Selenium. Antioxidants are vital in the fight against free radicals (chemical molecules that arise from pollutants in the body and damage healthy cells).Vitamin A plays an important role in vision, bone growth, reproduction, and cell division. It helps maintain the surface linings of the eyes and the respiratory, urinary, and intestinal tracts. Forever A-Beta-CarE® is a specially formulated dietary supplement that supplies vitamin A to the body from beta-carotene. The body converts beta-carotene to vitamin A in the small intestine during digestion or when it is needed, leaving a low risk of vitamin A overdose (which can be toxic when taken alone in large doses). Beta-carotene is also a recognized antioxidant, making it an ideal companion for vitamin E and Selenium.
Vitamin E, a fat-soluble vitamin, is an excellent supplement for healthy skin. It also protects vitamin A and essential fatty acids from oxidation in the body cells and prevents breakdown of body tissues.
Selenium is a trace mineral and is one of the most powerful antioxidant nutrients known to work synergistically with both vitamin E and beta-carotene. It is beneficial in maintaining healthy skin, hair and good eyesight. Recent research shows that Selenium is especially important to men's health.
This combination of nutrients, available all in one convenient product, is one of the most important complements to good health.
Supports healthy skin
Supports the circulatory system
Powerful antioxidant
FIELD OF GREEN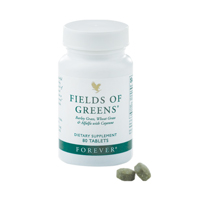 With today's busy lifestyles and the convenience of fast food, we all too often neglect eating fresh, green foods. Forever Living Products® provides a simple solution to "convenience eating" in Fields of Greens®. One glance at its ingredient list reveals a cornucopia of green foods for your body. Get the antioxidants you may be lacking. Fields of Greens® combines young barley grass, wheat grass, alfalfa and added cayenne pepper (to help maintain healthy circulation and digestion). We have also added honey to promote energy.
Excellent "green food" source .
Antioxidant
Contains beneficial phytonutrients
ABSORBENT C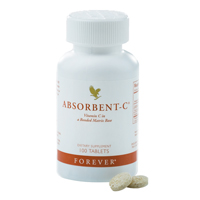 Daily vitamin C has long been associated with good health. Science now provides us with a whole list of benefits derived from this most famous of all vitamins:
It is a powerful antioxidant, forming part of the body's defense system against the harmful effects of free radicals.
It is a beneficial supplement for the skin, as it supports the formation of intercellular collagen
It is necessary for the maintenance of healthy connective tissue.
Vitamin C is water soluble, and is secreted from the body. Since humans are among the few animals that are unable to make their own vitamin C, we must therefore get it from our food, drinks, and supplements, such as Forever Absorbent-C®.
The need for adequate levels of vitamin C is very evident. Science reports that one cigarette destroys 25mg of vitamin C. Stress, medication and environmental factors all heavily deplete the body of this vitamin. A deficiency can result in broken capillaries and bleeding gums.
Forever Absorbent-C® with Oat Bran is an outstanding nutritional supplement. It combines two vital nutrients into one convenient product. The bonded matrix composition, is a unique delivery system combining 500 mg of oat bran with the full 60 mg of Vitamin C in each tablet.
A daily intake of Forever® Absorbent-C® is highly recommended for good health.
Oat bran aids absorption of vitamin C
Powerful antioxidant
Promotes healthy skin
ARTIC SEA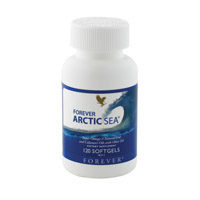 New and improved Forever Arctic Sea® now contains a proprietary blend of DHA-rich Calamari Oil, ultra-pure Omega-3 Fish Oil and High Oleic Olive Oil. This unique blend is exclusive to Forever Living and provides not only 33% more DHA per day, but creates the perfect balance of DHA and EPA for optimal health and wellness.
The Critical Omega-3:Omega-6 Balance
There is an important balance that most people do not fully understand when it comes to Omegas. Historically, nutritionally balanced diets contained a healthy ratio of Omegas as 1:1 up to 1:4 DHA:EPA. Unfortunately, many diets include unhealthy levels of Omega-6's which are traditionally derived from fried foods, vegetable oils, fake butter products, grain-fed animal fat and other modern convenience and processed foods. In addition, many diets are low in fish and Omega-3 consumption, which creates an unhealthy ratio of Omega-6: Omega-3 as high as 30:1! The key to getting back to a healthy ratio of DHA:EPA is increasing Omega-3 consumption and reducing Omega-6 intake.
Forever Arctic Sea® has been improved to not only increase the total amount of Omega-3's you get per serving, but also has significantly increased the amount of DHA per dose. DHA Omega-3 is naturally found throughout the body and is most abundant in the brain, eyes and heart. Just as calcium is essential for building strong bones, DHA ensures that the cells in the brain, retina, heart and other parts of the nervous system develop and function properly through all stages of life. Additionally, DHA intake has been associated with a decreased risk of mental decline associated with aging. No other fatty acid demonstrates this relationship.
Custom Omega-3 ratio to mimic a diet rich in seafood
All-natural citrus flavor for a pleasant aroma and minimal fishy flavor
Ocean friendly and responsibly sourced • Pure source of EPA and DHA
BEE POLLEN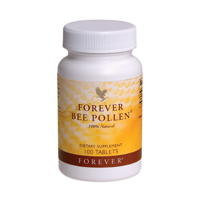 Pollen is the fertilizing dust of flowers. Bees gather and bring it back to their hives for food. Without pollen, plants, trees and flowers could not exist; even we depend on it. Forever Bee Pollen® is gathered in specially-designed stainless steel collectors and ensures the freshest and most potent natural food. Forever Bee Pollen® is all-natural and contains no preservatives, artificial flavors, or colors. Bee Pollen is readily digestible and easily absorbed by the human body. Research by scientists suggest that Bee Pollen provides energy and may enhance stamina.
Excellent supplement from the beehive
Boosts energy
May enhance stamina
ALOE BERRY NECTAR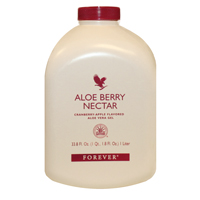 Forever Aloe Berry Nectar™ contains all of the goodness found in our Forever Aloe Vera Gel™, plus the added benefits of cranberry and apple.Besides their reputation as a cleanser for the urinary tract, cranberries provide a high content of vitamin C. They are also a natural source of healthful proanthocyanidins.
Apple juice contains many flavonoids as well as pectin.
You can drink Forever Aloe Berry Nectar™ with meals or alone. The delicious flavor is totally natural, prepared from a blend of fresh cranberries and sweet, mellow apples. Added fructose (a natural fruit sugar) sweetens it just enough to please both adults and children alike.
All the benefits of Forever Aloe Vera Gel™ with the sweet taste of cranberries
Contains healthful phytonutrients
Natural source of Vitamin C
WE SUPPLY ANY 5 OF YOUR CHOICE PRODUCTS FOR JUST
#44, 000 ONLY